First off, Happy Mother's Day!!!
A PROBLEM?
I've drawn up a little plan that I hope can solve a lot of problems in one fell swoop. Firstly, there's the tourism fatigue problem. Mom, you've gone on all the trips, done everything interesting that a church or Korean Dayton Seniors' group can do. You've been all over America, Asia, Europe, and even multiple times to Korea. You haven't been to Africa, but I don't know nothing about traveling in Africa, so I'm gonna leave that alone. But the point is -- you've seen all that a tourist can see, done all that a tourist can do. It's time for an upgrade to that experience.
And then there's the boredom problem. You've lived and worked in Dayton all your life, made professional and personal connections there, and got deep roots in the ground. But for better or worse, you've suddenly got little stress, financial security, and lots and lots of free time. It's time to turn these valuable commodities into something new and wonderful. Not many people are so lucky as to have all these things in abundance.
A SOLUTION
My little proposal is simple.Do the one thing in life very few people have the time and money -- and concrete, connections that make the opportunity -- to do, which is spend a semester abroad. In this way, you can see another country as a local, as an insider, which is the one thing all temporary tourists want to do but can't. And even as a Korean native speaker and someone who knows the culture, this is a barrier that's hard to breach. And Mom, in your case, having a short visit usually has meant a packed iterary, little time to rest or even breathe, and short, superficial tastes of a lot of new and old things. But what if your could be a tourist with all the benefits of a local? This is a rare opportunity, and a good way, with a son who lives in the hood in question, to quarterback just such a trip. You've been here, you've seen some it -- and the one thing making it kind of suck a little on even your longest, latest trip out here was precisely:
-- the hotel issue, since they're not a longterm solution
-- having a lot of free time but not having a plan ahead to maximize it
-- not having the sheer length of time to do certain kind of Local-style things
MY PROPOSAL
My proposal is, quite simply, a "Semester Abroad." Like September -- December, prime weather time in Korea, as you well know, and the perfect way to get 16+ free weeks and weekends to do a million things, learn new skills, and exercise those neurons. Even on your last trip out of nearly three two full months in Korea, you had maybe two -- three? -- free weekends to do interesting, and importantly, unplanned things?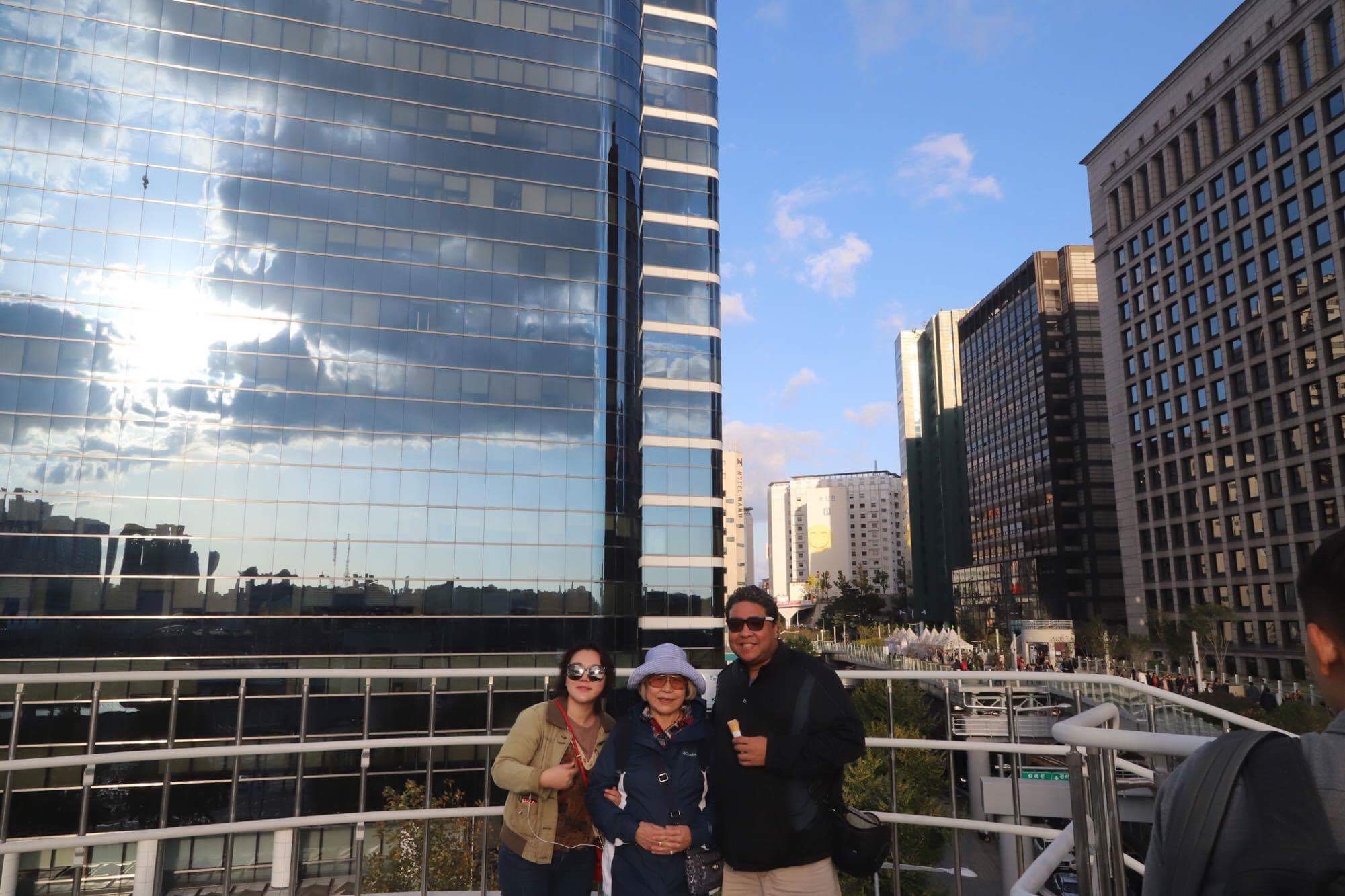 The best days on vacation...
The idea is to take advantage of the many rooms available in the Air BnB environment here, as well as the relatively high turnover rate of rental rooms, many of which look like this (but given the green light, I can research something with someone I have some ties with).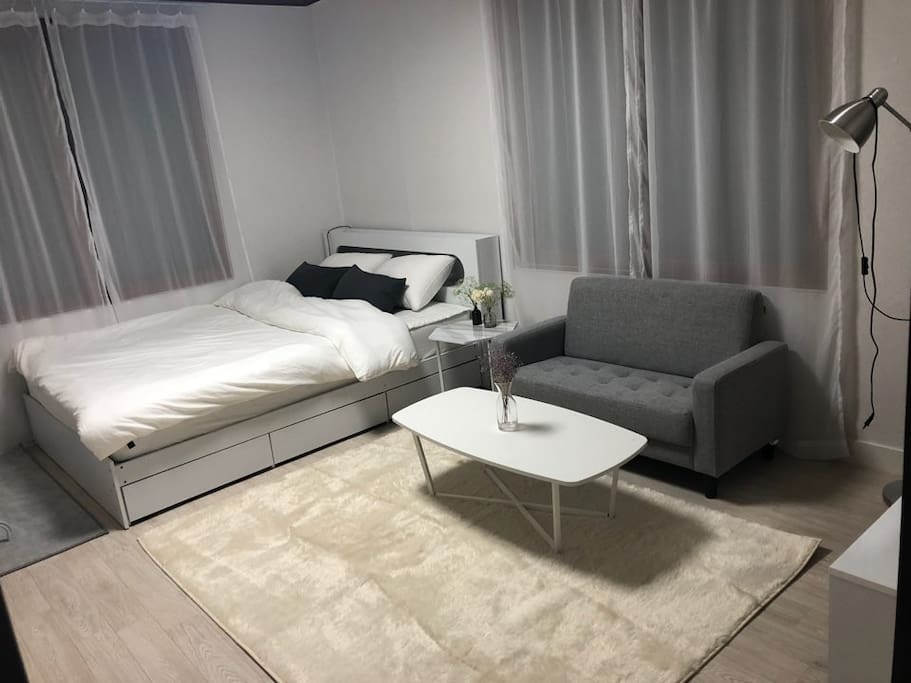 The point is, rooms like this (click here for the Air BnB listing) are abundant and average out to anywhere from around $25-50 a day when you look around. The one I found above is typical but looks particularly nice. There are many rooms like this one.
THE PLACE TO BE
But the whole point of this is that you'll have all the time you need to do a variety of other things you normally wouldn't. You get the advantages of one of the world's most population-dense cities and all the cultural, artistic, and intellectual options t hat brings. And in our little neighborhood, which is being rediscovered fast by the city for its cultural diversity and dynamicism, the future's even brighter. HBC is right in the middle of a revitalization/preservation project by the Yongsan district office, as it's designing a plan to upgrade the local streets and facilities to make it a bit more visitor-friendly. Check out this local newspaper article covering the plan.
The reason this all makes sense is that with a little extra effort, instead of several shorter trips that end up being mostly hectic running around and jumping from function to function, minus the good stuff that might come with being anywhere for a significant amount of time and being able to take a big, deep bite of something. With this plan, the several small downsides of having an extended stay outside of Ohio (getting the yard taken care of, having the mail collected, etc.) are easily offset by the significant upsides (continuing zumba classes here, taking a traditional tea-making class, learning about ancient Egyptian art in a class in the local cultural center (there's actually one in the iPark Mall near HBC -- click here for their site). Can't do that in Dayton. And you can't do it on a one-month trip (these courses are often around 12-16 weeks -- a normal school semester).
CULTURAL ACTIVITIES AND CLASSES
Now, we get to some of the good stuff you can do here.
Korean department stores have long been centers for cultural activities and new kinds of cultural consumption, ever since the Japanese introduced them in the 1920s, during the colonial period. Even today, the top floors of any decent department store (like the one we all went to to pick up something for Damoni in Shinchon) has foreign food restaurants and cultural centers with all kinds of classes -- many of which are popular amongst seniors. Given how many centers like this there are across Seoul, and also given the wonderful public transportation system, you'd have access to all kinds of classes taught by top professors from top Korean universities, as well as captains of culture and industry, from which to choose. To continue the example and make this proposal more concrete, take a look at the local commuter bus (the 03) that goes straight from HBC to the iPark Mall in 30 minutes (which includes around six minutes of walking).
It's a quick, leisurely bus ride or a 45-minute walk, by my KakaoMap's reckoning.
THE SHORT OF IT
I think this is a great time in your life to kick back and take advantage of your actual greatest resource -- time. Having more time than one knows what to do with is one of those "good problems to have" that comes with settling into a well-planned, post-retirement life. However, unlike conventional thinking around trips and tourism, stages of life and what most people do in them, and what seniors are "supposed" to do, this actually seems like a logical choice given your available resources, background, interests, and other inclinations. I'd say to bounce it off of other people, discussing the possible upsides and downsides, and take this proposal and my intention to hook up a possibly amazing, life-altering experience that's more than just another "senior trip" -- like the upcoming one in October, which I think you are already worried won't be as relaxing and fun as itis supposed to be.
Anyway, Happy Mother's Day -- and I hope we'll talk about this more later today and possibly plan this out in the coming weeks and months. I'm on the case -- this idea is juuuust crazy enough to be awesome.